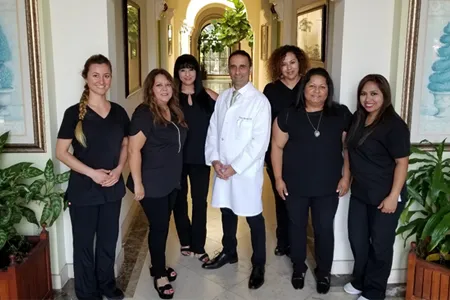 ---
Becky
Office Manager / Dental Biller
Originally from Guatemala, I'm a mother of three wonderful kids. Having 24 years of experience in dental field and working my way up from a chair side assistant to managing multiple offices, has given me a unique opportunity to expand my knowledge in multiple areas of the dental field. I have been fortunate enough to attend many dental seminars and continuing education classes through the years.
I met Dr. Elyassian at a lecture he gave in the dental office I was working at, and was amazed at his knowledge and expertise. I kept his business card from that day with the intention of making an appointment to see him as a new patient. Not only did I become a loyal patient of his, but also ended up working for him in Marketing, Public Relations, Treatment Coordination, Dental Billing, and as an Office Manager. Working at such a state-of-the-art office has been not only a wonderful learning experience but a great pleasure!
Having been a patient of Dr. Elyassian and experiencing the amazing care he provides in a comfortable and calming environment has giving me the confidence to refer my friends and family to his office!
I love working with Dr. Elyassian not only because I get to see the amazing transformations, but because I value the unique relationships I build with each patient.
In my personal time, I enjoy spending time with my kids, family and love to travel!

Angelica
Receptionist / Treatment Plan Coordinator
After working in the dental field for over 6 years, I decided to take a break in order to further advance my education goals. I enrolled in college to obtain a degree in Criminal Justice, while being a wife, a mother of 2 children and holding a part-time job at a transitional center for battered women and children. I received my Associates degree in Administration of Justice, and a Bachelors in Criminal Justice which opened the doors for me to become a youth counselor at a deviant behavior facility for 4 years. I was then presented with the opportunity to work alongside Dr. Elyassian and his professional team. Since working with Dr. Elyassian I have met many beautiful patients who have become like family to me. My passion has always been to help others in any way I can!
I enjoy teaching second and third graders at Sunday school. I also love cooking and baking from scratch! During the holidays I prioritize serving at local charity locations to help those in need. Furthermore, I cherish my time spent with family & friends and enjoy our summer camping trips to different national parks. One of my favorite quotes is: "I alone cannot change the world, but I can cast a stone across the waters to create many ripples."– Mother Teresa

Claudia
Registered Dental Hygienist, B.S., B.A.
Hi, my name is Claudia. I am native to Orange County, growing up in Irvine, California. I have 20 years experience in dentistry. In 1999, I received my dental assisting certificate, from Coastline ROP in Costa Mesa, CA. In 2000, I earned my BA in religious studies from Pacific Union College. I continued to study, and in 2004, I graduated from Loma Linda University with my BS in dental hygiene. I furthered my knowledge and training in Switzerland, learning more in the area of periodontics and dental implant care.
I became a dental hygienist because I wanted to help people have a healthy and beautiful smile. I am passionate about my profession and continue to attend seminars and conferences to advance my knowledge.
In 2016 I brought my expertise in periodontal therapy to Dr. Eylassian's state of the art dental practice. In 2017, I continued to expand my skills by receiving my laser certification.
My love for dental hygiene fuels my desire to provide superior care for my patients. I enjoy spending time with my husband and our 2 rescue dogs. In our free time we like to travel, spend time at the beach, go to the Ducks hockey games and relax with family.

Adrianne
Registered Dental Hygienist, B.S.
I love my job as a Dental Hygienist! My favorite part is changing people's perceptions and helping others realize they can actually enjoy and look forward to coming in for cleanings!
I started working in the dental field in 2003 as a dental front office assistant. Realizing I enjoyed creating a relaxing atmosphere for our patients, I began assisting in the back office and received training as a chairside assistant. In the meantime, I started learning more about dental hygiene and completed the pre-requisites for acceptance to Loma Linda University School of Dentistry. In 2008, by God's grace, I graduated from the prestigious, holistic-care centered program at LLUSD. Since then, I have been strengthening and enhancing my skills to provide my patients with the BEST quality care and treatment they could possibly receive!
In my free time I enjoy reading, gardening, taking my German Shepherd on long walks, cuddling my spoiled cat (I never thought I would EVER have a cat!), and spending quality time with my amazing husband!
I look forward to seeing you in our office and guarantee that here you will have the best chance for healing and top-of-the-line quality periodontal care!

Erika
Dental Assistant
I was born in Bolivia and am a mother of two wonderful kids. I have 12 years of experience in the dental field. Prior to working with Dr. Elyassian and his wonderful staff I worked as an assistant in a general dental office. Throughout the years, I have gained a great deal of knowledge in general dentistry as well as most dental specialties, but periodontics and dental surgical specialty has always had a special place in my professional life.
During my free time I enjoy spending quality time with my family at Disneyland! Just as much as I enjoy working with an exceptional team, I enjoy providing quality customer care to all of our patients in order to make their visit comfortable and pleasant.

Sandra
Dental Assistant
Prior to working with Dr. Elyassian and his wonderful staff, I attended a Dental Assisting program and worked as a Dental Technician. After graduating as a Dental Assistant, Dr. Elyassian gave me the opportunity to join his team as a chairside assistant as well as helping at the front desk. My favorite part of my job is seeing the results of surgical and cosmetic dentistry when we deliver beautiful smiles, confidence, and happiness to our patients! This is one of the reasons why I chose to become a Dental Assistant. I love my job and am eager to continue growing in this field.
In my down time, I love spending time with my husband enjoying the outdoors, snowboarding, traveling, designing jewelry and being with family.