Thank you for scheduling your appointment with us! Below you will find answers to some of your questions. Please feel free to contact us if your question or concern is not listed here. 714-730-3746
What should I expect in my first visit?
Your initial appointment with Dr. Elyassian will consist of an examination and treatment plan outlining your diagnosis and options. Occasionally, surgery can be performed on the same day as the evaluation, but a complex medical history or treatment plan will require a second appointment. Many times this can be decided over the phone when you call for an appointment. And although we recommend a consultation appointment for wisdom teeth, it isn't mandatory and the surgery can be done during the same visit. For dental implants, some wisdom teeth, or other procedures, a second appointment will be scheduled for surgery.
To make your appointment smoother, please assist us by providing the following information at the time of your consultation:
Your surgical referral slip (if you have one)
A list of medications that you are presently taking
Any x-rays you may have
We can take x-rays or request them from your dentist. If you have medical or dental insurance, please bring the necessary completed forms. This will save time and allow us to help you process any claims.
Financing plans for oral surgery and dental implants are available through www.carecredit.com
About Dr. Elyassian DDS., Periodontist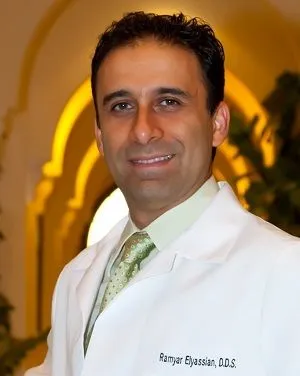 Education & Certifications:
Assistant Professor in the Advanced Periodontics Department at (UCSD)
Bachelor of Science Degree from University of California, Los Angeles (UCLA)
Doctor of Dental Surgery degree (DDS) from University of Southern California (USC)
General Practice Residency and Hospital Dentistry at the University of Pacific in Fresno (UOP), California.
Periodontics certification from Louisiana School of Dentistry (LSU)
Diplomate of the American Board of Periodontology
Board certification from the American Board of Periodontology
Trained Periodontist in Implantology and Laser Surgery at the Advanced Periodontics Department at University of Colorado School of Dentistry (UCSD)
Periodontics clinical professor at the University of Southern California (USC) and at University of Colorado School of Dentistry and training and lecturing nationally and internationally
Dr. Elyassian has special Education, Training, and Certificates in Periodontology and Laser Gum surgery. His office, located in Tustin, CA proudly provides Laser gum surgical treatments and Dental implants services to Orange County, CA residents. Learn More
Dr. Ramyar Elyassian, D.D.S. is a highly trained periodontist/specialist in periodontics as well as a Diplomat of the American Board of Periodontology. His advanced training in gum surgery, dental implantology, laser surgery, and hospital dentistry coupled with a state-of-the-art facility provide patients with the most advanced technical procedures, the highest level of comfort, and results.
Dr. Elyassian and his experienced staff are dedicated to delivering the highest quality of care that is customized to suit their patient's individual needs. As one of the top oral surgeons in the country, Dr. Elyassian believes that each person reserves the right to make informed decisions about their health. He thoroughly discusses the details of each treatment option with his patients, taking the time to address all of their questions and concerns. In the effort to promote a more holistic approach that is in keeping with today's scientific findings, the Dental Implant and Laser Surgical Specialists office is mercury and BPA-free with low radiation digital radiography-which means 90% less radiation- CT scan and advanced laser technology (why laser, Why digital x-ray).
In addition to spending many years perfecting the art and science of Periodontics and surgical dentistry at some of the most prestigious training institutions in the nation, Dr. Elyassian is the only Periodontist (Gum Specialist) in the country who has 3 post-doctoral degrees in periodontics, hospital dentistry, implantology, and laser surgery as well as being a Diplomate of the American Board of Periodontology.
He also held positions as a clinical professor of Periodontics at USC School of Dentistry and as an assistant professor at the University of Colorado School of Dentistry. In a field where technological advancements continue to expand at a rapid pace, Dr. Elyassian's practice resides on the leading edge of surgical dentistry. His patients benefit from advanced high magnification and laser surgical treatment for almost all of the procedures performed. Currently, he nationally trains and lectures to other Periodontists/dentists/oral surgeons in the use of lasers in their practices. Dr. Elyassian is proud of the fact that most of his patients refer family members or friends to his office for their dental surgical needs.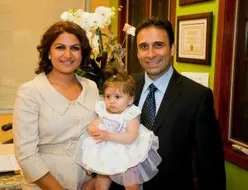 A native of Southern California for over twenty years, Dr. Elyassian resides in Orange County with his wife, 3 children, and dogs Buster and Bella, both shelter rescues from New Orleans. Dr. Elyassian has been awarded for three consecutive years as one of America's Top Dentists for his accomplishments in Periodontics, Laser Surgery, and Implant Dentistry.
Learn more about Dr. Elyassian's special Education, Training, and certificates in Periodontology and Laser surgery. Learn More
What insurance plans are accepted?
For a list of accepted insurance plans please click here.
What X-Ray machines or imaging technologies used for diagnosis?
A) Digital X-Ray machine
Dental Implant and Laser Surgical Specialist uses digital dental X-Rays to provide even better dental care and more accurate diagnoses. The process of digitally capturing an image is much faster, safer, and more comfortable for the patient.
How Digital Dental X-Rays Work?
We place a small sensor in your mouth. The sensor is connected to a computer by a thin wire.
Next, an X-ray beam is sent through your teeth and into the sensor, which records the image of your teeth and sends it to the computer. The sensor can then be repositioned to photograph other sections of your teeth.
Why Digital Dental X-rays are better?
The digital dental X-ray system is more sensitive than dental X-ray film systems, so your exposure to X-ray s is cut by as much as 90 percent. The large and color-enhanced images let you see what your dentist sees, so it's easier for you to understand how your dentist will treat your teeth. Your fees don't include payment for photo chemicals, film processing or film storage. Used photo chemicals and film are not polluting the environment. Your dental checkups take less time, and it is fun to watch this system work! Most patients are amazed.
I don't want x-rays taken because there is too much radiation. Is this a valid concern?
Most people don't realize that dental x-rays actually produce very little radiation and with the advent of digital radiography, radiation has gone down even more, by up to 90%. Researchers have concluded that "if a person in an average location in the U.S. were to receive a full-mouth series and panoramic examination every 4 months for the rest of their life, they would incur only the same risk as a person living in Denver who was not exposed to dental radiography". "Denver is exposed to more atmospheric radiation due to the high elevation of this city". So remember, you are exposed to radiation naturally, including cosmic radiation from space and radiation from manmade objects such as color television.
I was referred to a specialist and they needed to take their own x-rays. Is this necessary?
As a specialist office, we come across this very often. A patient has been seen by their general dentist and has been referred for specialized treatment. The general dentist took the radiographs they needed to diagnose the patient. The patient then assumes that the specialist should be able to use these same radiographs and refuse further x-rays before they even come in. Again, this poses a bit of a problem. We can only speak for ourselves here, but we always try and obtain the x-rays taken by your dentist. If we can use them, then by all means, we do. However, there are certain situations that warrant taking different radiographs for diagnostic purposes. This is not an area that can be skimped on. A proper diagnosis is mandatory to treat a patient. We can assure you that most dentists don't take random x-rays. There is a definite purpose.
Do I really need x-rays as often as they are recommended?
Most dentists practice under the code of ethics in dentistry and practice under what is called the "standard of care". This standard of care has been devised using proven methods and research. An example would be taking standard bitewings at your dentist every six months. This is not an interval that your dentist just made up. This is defined very clearly for our profession, however, x-rays intervals can be tailored to your specific needs or the philosophy of the practice. If you have gum disease, a full mouth series is warranted at least every three years. Again, these are just guidelines because if you are at high risk for a certain disease or are unstable, it is recommended that these x-rays be taken more often, along with potentially other types of x-rays to help diagnose a specific condition. Refusing radiographs when recommended actually puts us in an awkward position because we are then unable to properly diagnose, as we have been trained to do.
Can't they figure out what is wrong with my tooth without taking x-rays?
Radiography is an indispensable tool for us to use to detect disease and is cautiously used by dentists to provide the greatest benefits to you. We require necessary x-rays to be taken to provide you with the most accurate diagnosis. We will be unable to perform the treatment if you refuse the necessary x-ray diagnostic procedures. Looking in the mouth is only one part of the examination. When trying to diagnose dental decay, gum disease, or damage to the nerve, it is impossible to know the extent of the disease without the aid of x-rays. Having said that, x-rays are a two-dimensional image of a three-dimensional mouth, so sometimes the disease can be even further advanced than what is originally thought by your clinical and radiographic examination.
Remember there are serious health risks every time you drive a car or walk across the street. Patients who do not consent to a reasonable amount of dental radiography run a greater risk of dental disease. When left undiagnosed, these conditions may cause an even greater health hazard and medical expenses.
B) 3D Imaging
We are proud to provide our patients with the very latest technologies with convenience, safety, and best care in mind.
Our 3D imaging scanner has been designed specifically for dentistry.
The precise imaging permits us to diagnose from exact, undistorted, one-to-one images. This results in greater diagnostic accuracy and greater diagnostic confidence.
Beyond the clinical aspects, 3D imaging is also a wonderful patient education tool. For the first time, you can see your anatomy in an accurate, real-life perspective that allows you to understand your own oral condition.
This improved comprehension leads to a greater understanding and trust between you and Dr. Elyassian. Patient positioning is quick and in just 14 seconds the scan is complete.
3D imaging does even more, as it offers the ability to virtually place implants for a more consistent patient outcome. This virtual technique cuts real implant placement time in half and assures there will be no surprises when we proceed with your treatment.
We chose our 3D CT scan imaging system because of its very low radiation exposure (vs. other brands of dental 3D). It produces 100 times less radiation than traditional CT scans taken at hospitals and less than half the radiation exposure from a traditional dental film full mouth series.
Excellent technology for diagnosing:
Pathology of hard tissue
Root fracture
Periodontal disease
predictable dental implant placement through guided implant surgery
Endodontic periapical lesions not seen on 2D dental X-Ray
Special Features:
Most accurate treatment planning
Low radiation dose
Fast and easy
Done here during the normal appointment time
The comprehensive dental evaluation finds 25% more abnormalities than traditional 2D
Lower cost than medical CT
Easy to understand, greater diagnostic accuracy and greater diagnostic confidence more consistent patient outcomes
Patient education tool, enhancing a greater bond between patient and doctor
What is a pain-free dental-injection?
Pain-Free Dental injections
A new dawn for injection comfort is here. How about Pain-Free Dental injections on your next visit?!
Fear or anxiety about the pain of dental injections keeps 50% of Americans from visiting the dentist – resulting in an epidemic of untreated dental needs, excessive tooth loss, and poor overall health. With the use of the latest technology called DentalVibe, fear of injection is the thing of the past. Ask us how it's done.
What is a Pain-Free injection? What is Dentalvibe?
DentalVibe® is a patented, award-winning, cordless handheld device designed to reduce the pain and fear associated with the dreaded dental injection for adults as well as children. So when you get a shot, you don't feel it. – See more at dentalvibe.com
The fear of dental injections should not affect your oral health. We are proud to offer the latest medical technologies that make your dental visit a pain-free and even pleasant experience!
Learn about Dr. Elyassian's education, training, and certification in Implant dentistry, Periodontology, and hospital dentistry.
Will I feel pain with laser? What's waterlase?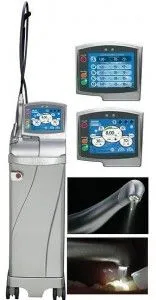 Waterlase Dentistry uses a patented combination of laser energy and water - a process called Hydro Photonics to perform a wide range of dental procedures on teeth, gums, and bones more comfortably. Waterlase dentists typically use fewer shots and fewer anesthesias to provide a more comfortable dental experience. That means a new level of comfort and satisfaction for you and your loved ones.
Why should I use a Waterlase Periodontist?
Waterlase surgical dentistry has many advantages over conventional oral and periodontal surgeries:
Your comfort
Heat, vibration, and pressure are the primary causes of pain associated with the use of the traditional drill and instruments. Since the Waterlase laser cuts hard and soft tissues without heat, vibration, or pressure, your Periodontist may be able to perform your procedure with fewer shots and less anesthesia. Plus, using a Waterlase laser reduces bleeding, post-operative pain and swelling, and the need for pain medication in many cases. In certain cases, patients could have surgeries without being taken off of Aspirin, Plavix, Coumadin, and other blood thinners. Waterlase could also be used in the comfortable treatment of oral herpetic lesions, removal, and biopsy of other benign intra-oral lesions.
Accuracy and Precision
A Waterlase Periodontist can safely, accurately, and precisely make an incision in soft and hard tissues while leaving the surrounding cells unaffected.
Reduced Trauma
High-speed drills can cause hairline fractures in teeth that can eventually lead to future dental problems. The gentle action of the Waterlase laser reduces damage to healthy portions of the gum, bone, and tooth, minimizing trauma.
Detoxification of the Root Surface and Implants
Waterlase can safely and accurately detoxify and condition root surfaces for accepting bone and tissue grafts.
Fewer Dental Visits
Since you may not need shots or anesthesia, your Waterlase Periodontist may be able to perform various surgical procedures in several areas of your mouth, rather than having you come back for multiple visits.
Less Bleeding and Swelling
Due to its gentle cutting action and coagulating capabilities the Waterlase laser performs many procedures on gums and other soft tissues with little or no bleeding with less post-operative swelling. By doing so it bypasses the normal inflammatory process which is produced by the traditional cutting action of a blade. This translates to less inflammation, less post-operative pain, fewer pain medications, and faster healing.
Versatility
The Waterlase laser was first cleared by the Food and Drug Administration (FDA) to cut tooth surface structures in 1988 and has received over 60 additional clearances for a wide range of procedures on teeth, gums, and bone.
Is Waterlase Dentistry Safe?
YES! In the hands of your trained Periodontist, the Waterlase is a safe medical device. As a Waterlase Periodontist, your doctor is committed to providing you with the best possible care and dental experience.
I just had an operation today. How should I care for my teeth (post-op)?
For post operations' specific instructions please open and save our "Periodontics post-op instruction page"