Posts for tag: tooth decay
By Dental Implant and Laser Surgical Specialists
March 23, 2021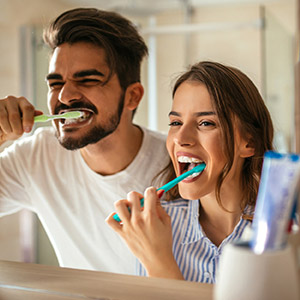 Tooth decay is a destructive disease that could rob you of your teeth. But it doesn't appear out of nowhere—a number of factors can make it more likely you'll get cavities.
But the good news is you can be proactive about many of these factors and greatly reduce your risk of tooth decay. Here are a few questions to ask yourself to point you in the right direction for preventing this destructive disease.
Do you brush and floss every day? A daily habit of brushing and flossing removes buildup of dental plaque, a bacterial film on teeth that's the top cause for tooth decay and periodontal (gum) disease. Hit or miss hygiene, though, can greatly increase your risk for developing a cavity.
Do you use fluoride? This naturally occurring chemical has been proven to strengthen tooth enamel against decay. Many locations add fluoride to drinking water—if your area doesn't or you want to boost your fluoride intake, use toothpastes, mouthrinses or other hygiene products containing fluoride.
Do you smoke? The nicotine in tobacco constricts blood vessels in the mouth so that they provide less nutrients and antibodies to the teeth and gums. Your mouth can't fight off infection as well as it could, increasing your risk of dental diseases like tooth decay.
Do you have dry mouth? This isn't the occasional bout of "cotton mouth," but a chronic condition in which the mouth doesn't produce enough saliva. Saliva neutralizes mouth acid, so less of it increases your risk for decay. Chronic dry mouth can be caused by medications or other underlying conditions.
Do you snack a lot between meals? Sugary snacks, sodas or energy drinks can increase oral bacteria and acidity that foster tooth decay. If you're snacking frequently between meals, your saliva's acid neutralizing efforts may be overwhelmed. Coordinate snacking with mealtimes to boost acid buffering.
You can address many of these questions simply by adopting a daily habit of brushing and flossing, regular dental cleanings and checkups, and eating a healthy, "tooth-friendly" diet. By reducing the risk factors for decay, you can avoid cavities and preserve your teeth.
If you would like more information on preventing tooth decay, please contact us or schedule an appointment for a consultation. You can also learn more about this topic by reading the Dear Doctor magazine article "Tooth Decay: How to Assess Your Risk."
By Dental Implant and Laser Surgical Specialists
February 02, 2020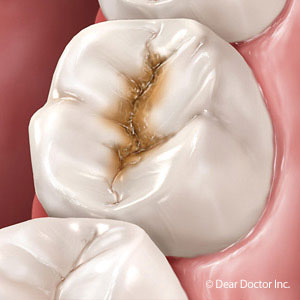 Tooth decay doesn't occur out of thin air, but is the end result of bacteria feeding on sugar, multiplying and producing acid. High acidity erodes tooth enamel and creates an environment for cavity development.
Modern dentistry can effectively treat cavities and often save the tooth from further damage. But you don't have to wait: You can reduce your chances of cavities by managing risk factors that contribute to decay.
Here are 4 top risk factors for tooth decay and what you can do about them.
Poor saliva flow. Saliva neutralizes acid and helps restore minerals to enamel after acid contact. But your enamel may not have full protection against acid if you have diminished saliva flow, often due to certain medications. You can help increase your saliva by consulting with your doctor about drug alternatives, drinking more water or using a saliva boosting product. Smoking can also inhibit saliva, so consider quitting if you smoke.
Eating habits. High sugar content in your diet can increase bacterial growth and acid production. Reducing your overall sugar consumption, therefore, can reduce your risk of decay. Continuous snacking can also increase your decay risk, preventing saliva from bringing your mouth back to its normal neutral pH. Instead, limit your snack periods to just a few times a day, or reserve all your eating for mealtimes.
Dental plaque. Daily eating creates a filmy buildup on the teeth called dental plaque. If not removed, plaque can then harden into a calcified form called calculus, an ideal haven for bacteria. You can help curtail this accumulation by thoroughly brushing and flossing daily, followed by dental cleanings at least every six months. These combined hygiene practices can drastically reduce your cavity risk.
Your genetics. Researchers have identified up to 50 specific genes that can influence the risk for cavities. As a result, individuals with similar dietary and hygiene practices can have vastly different experiences with tooth decay. Besides continuing good lifestyle habits, the best way to manage a genetic disposition for dental disease is not to neglect ongoing professional dental care.
If you would like more information on managing your tooth decay risk factors, please contact us or schedule an appointment for a consultation. You can also learn more about this topic by reading the Dear Doctor magazine article "What Everyone Should Know About Tooth Decay."
By Dental Implant and Laser Surgical Specialists
March 16, 2017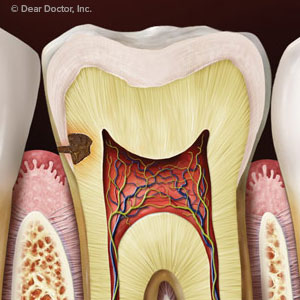 Tooth decay is one of the world's most prevalent diseases — and one of the most preventable. We've known the primary prevention recipe for decades: brushing and flossing daily, and dental cleanings and checkups at least twice a year.
But consistent oral hygiene isn't enough — you should also pay attention to your overall health, diet and lifestyle habits. Each of these areas in their own way can contribute to abnormally high mouth acid, which can soften enamel and open the door to tooth decay.
Lower saliva production is one such problem that can arise due to issues with your health. Among its many properties, saliva neutralizes acid and helps maintain the mouth's optimum neutral pH level. But some health conditions or medications can reduce saliva flow: less saliva means less neutralization and chronic acidity.
You can also inhibit saliva flow with one particular lifestyle habit — smoking. Tobacco smoke can damage salivary glands. Nicotine, tobacco's active ingredient, constricts blood vessels, leading to fewer antibodies delivered by the blood stream to mouth tissues to fight disease.
A diet heavy on acidic foods and beverages can also increase mouth acidity. It's not only what you're eating or drinking — it's also how often. If you're constantly snacking or sipping on something acidic, saliva doesn't have a chance to complete the neutralizing process.
In addition to your daily oral hygiene practice, you should also make changes in these other areas to further lower your risk of tooth decay. If you're taking medications that cause dry mouth, see if your doctor can prescribe a different one or try using products that stimulate saliva. Quit smoking, of course, as much for your mouth as for the rest of your health.
On the dietary front, reduce your intake of acidic foods and beverages, especially sodas, energy or sports drinks. If you've counted on the latter for hydration, switch to water instead. And limit acidic foods to mealtime rather than throughout the day.
It's all about maintaining a healthy pH level in your mouth. Doing so along with good oral hygiene will help you better avoid destructive tooth decay.
If you would like more information on preventing tooth decay, please contact us or schedule an appointment for a consultation. You can also learn more about this topic by reading the Dear Doctor magazine article "Tooth Decay: How to Assess Your Risk."