Posts for tag: periodontal disease
By DENTAL IMPLANT AND LASER SURGICAL SPECIALISTS
September 24, 2019
Periodontal (gum) disease often doesn't get the attention it deserves. In fact, some people simply consider it a minor dental problem. In
reality, this disease can have a devastating effect on your gums, teeth, and bones, as well as your overall health. Fortunately, you can decrease your risk of developing advanced periodontal diseases by familiarizing yourself with its common symptoms. Here at Dental Implant and Laser Surgical Specialists in Orange, CA, your periodontist, Dr. Ramyar Elyassian, offers the care you need to recover from gum disease—read on to learn more.
Do you have any of these symptoms?
Gingivitis, the first phase of periodontal disease, can cause symptoms that initially seem fairly mild. You may notice that your breath never seems fresh or that your gums bleed a little when you brush and floss. Your gums may also start to recede at this stage.
Fortunately, at this point, it's often possible to reverse periodontal disease with a dental cleaning from your Orange, CA, periodontist and better oral hygiene. Flossing daily and brushing twice a day for at least two minutes will help keep your mouth clean and free of plaque.
If the disease progresses, you may notice one or more of these signs or symptoms:
Sensitivity: Your sensitive tooth roots are exposed when your gums recede. Eating or drinking hot, cold or sugary beverages and foods can trigger pain.
Noticeable Gum Changes: Your gums may be red, swollen, and tender if you have gum disease. As the disease worsens, your gums will recede even more.
Pain: Inflamed gums can be very painful—pressing on them, or even chewing, can increase the pain.
Pockets: Eventually, deep spaces called pockets may form around your teeth if you have periodontal disease. These pockets often contain pus and bacteria, making it increasingly difficult to eat.
Loose Teeth: Your teeth are held in place by bone, ligaments, and gum tissue. Unfortunately, the bacteria in your pockets can attack and damage all of these structures, causing your teeth to loosen and fall out.
Need treatment? Give us a call
Prompt treatment can help you avoid the unpleasant consequences of periodontal disease. Call your Orange, CA, periodontist, Dr. Ramyar Elyassian of Dental Implant and Laser Surgical Specialists, at (714) 730-3746 to schedule an appointment.
By Dental Implant and Laser Surgical Specialists
April 08, 2019
It takes only a short time neglecting your oral hygiene before you begin to notice some unpleasant things with your gums: swelling, redness or even bleeding. These are all signs of gingivitis, a periodontal (gum) disease that arises from bacterial plaque, a thin biofilm that builds up on tooth surfaces when a person doesn't brush or floss.
Fortunately, early stages of gingivitis can be treated effectively with comprehensive plaque removal during one or more office visits. If, however, it's not dealt with early, it can develop into something much more serious: acute necrotizing ulcerative gingivitis (ANUG). This form does more than leave you with unattractive teeth and gums and terrible breath — it could eventually cause you to lose your teeth.
ANUG is also known as trench mouth, a common ailment among front line World War I soldiers without access to proper dental care and hygiene. It's most prevalent today among individuals who are under a great deal of stress, not sleeping or eating well and haven't cleaned or properly cared for their teeth for an extended period of time. Tobacco smokers also seem more susceptible than non-smokers to the disease, perhaps because smoke dries the mouth and changes the bacterial environment.
Unlike common gingivitis, ANUG can be quite painful. In effect, the gum tissues begin to die (necrotize), especially the triangular peaks between teeth known as papillae. Besides the other symptoms of gingivitis, the tissues may become yellowish.
ANUG can be treated effectively. The first step is to relieve the symptoms of pain and inflammation through medication. The focus then shifts to treating the underlying cause, bacterial plaque. Besides plaque removal common in any treatment for gum disease, we may also need to initiate antibiotic therapy. Metronidazole is a common antibiotic that's been demonstrated effective against the specific bacterial strain associated with ANUG. We might also combine this with an antibacterial mouth rinse containing chlorhexidine.
The final step belongs to you: to keep ANUG or any other gum disease from reoccurring, it's important for you to adopt a daily regimen of brushing and flossing, along with regular dental visits for thorough teeth cleaning and checkups. Taking this proactive approach will help ensure you won't suffer from this painful and unattractive form of gingivitis again.
If you would like more information on acute gingivitis, please contact us or schedule an appointment for a consultation. You can also learn more about this topic by reading the Dear Doctor magazine article "Painful Gums in Teens & Adults."
By Dental Implant and Laser Surgical Specialists
January 19, 2018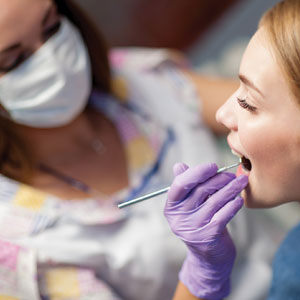 If you've undergone treatment for periodontal (gum) disease, you know how involved it can be. After several sessions of plaque and calculus (hardened plaque deposits) removal, your swollen, red gums finally begin to regain their healthy pink color.
But with gum disease, the battle may be over but not necessarily the war. If we don't remain vigilant, there's a high chance you'll experience a re-infection.
That's why periodontal maintenance (PM) is so important for gum disease patients after treatment. Plaque, the thin film of bacteria and food particles responsible for the infection, can grow again on your tooth surfaces as it did before. You'll have to practice diligent, daily brushing and flossing to curb that development.
But it's also important to keep up regular dental visits for advanced cleaning to remove hard to reach plaque and calculus. For most people that's usually twice a year, but for gum disease patients it could be up to four times a year, especially just after treatment. And there's more to these visits than cleaning.
Since our goal is to reduce the chances of re-infection as much as possible, we'll thoroughly examine your teeth, gums and any implants for signs of disease (we'll also include an oral cancer screening). We want to assess the health of your teeth and gums and to see how well you're doing hygiene-wise with plaque control.
If we find signs of gum disease, we'll discuss this with you and schedule a new round of treatment. The sooner we initiate treatment, the better your outcome. In some cases, we may perform procedures that make it easier to access and clean areas where plaque tends to build up.
Overall, we want to prevent the occurrence of any future disease and treat it as soon as possible if it re-occurs. Keeping up diligent PM will help ensure your gums continue to stay healthy.
If you would like more information on after care following periodontal (gum) disease, please contact us or schedule an appointment for a consultation.