Posts for: May, 2021
By Dental Implant and Laser Surgical Specialists
May 12, 2021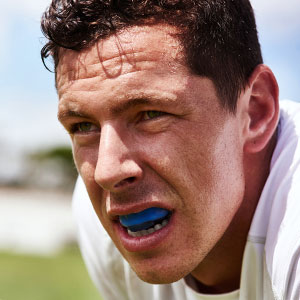 As part of his "New Frontier," President Kennedy greatly expanded the President's Council on Physical Fitness. Sixty years later, it's still going strong—now as the President's Council on Sports, Fitness & Nutrition (PCSFN)—supporting physical activity and nutrition initiatives for better health. That would also include your mouth: Healthy teeth and gums are an important part of a healthy body.
The PCSFN designates each May as National Physical Fitness and Sports Month to spotlight the important role sports and exercise play in maintaining overall physical fitness. And what's good for the body is also generally good for your mouth.
But while you're out on the field or in the gym, there are some potential pitfalls to watch for that could create problems for your teeth and gums. Here are a few of them, and what you should do to avoid them.
Neglecting oral hygiene. As spring weather warms up, many of us are eager to rush out the door for exercise and other physical activities. But don't leave before taking care of one important item—brushing and flossing your teeth. These hygiene tasks clean your teeth of dental plaque, the thin bacterial film most responsible for tooth decay and gum disease. Plaque should be removed daily, so take the time to brush and floss before you kick off your busy day.
Sports drinks. A quick scan around sports or fitness venues and you're likely to see plenty of sports drinks in attendance. Although marketed as a fluid and nutrient replacement after physical exertion, most sports drinks also contain sugar and acid, two ingredients that could harm your teeth. Try not to constantly sip on sports drink, but drink a serving all at one time (preferably with a meal). Better yet, unless your physical activity is especially strenuous or prolonged, opt instead for water, nature's original hydrator.
Blunt force contact. A pickup basketball game is a great form of physical exercise. But a split-second blow to the face could damage your teeth and gums to such extent that it could impact your dental health for years to come. If you're a regular participant in a contact sport, wearing a mouthguard will significantly lower your risk for oral injuries. And for the best comfort and protection, have us fit you with a custom-made mouthguard—it could be a wise investment.
Our bodies (and minds) need regular physical activity to stay healthy—so by all means, get out there and get moving. Just be sure you're also looking out for your teeth and gums, so they'll stay as healthy as the rest of your body.
If you would like more information about protecting your dental health during physical activity, please contact us or schedule a consultation. To learn more, read the Dear Doctor magazine articles "Think Before You Drink" and "Athletic Mouthguards."
By Dental Implant and Laser Surgical Specialists
May 02, 2021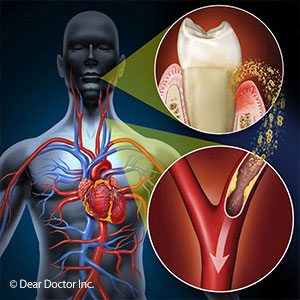 Periodontal (gum) disease can do unpleasant things to your mouth, including losing teeth. Its effects, though, may not be isolated to the oral cavity: Gum disease could make other diseases in the body worse.
Gum disease is a bacterial infection most often caused by dental plaque, a thin bacterial film that builds up on teeth in the absence of effective oral hygiene. At the outset it may infect your gums causing them to swell, redden or bleed. Eventually, though, the infection can advance deeper toward the tooth roots and bone.
There are various methods to treat gum disease depending on the extensiveness of the infection. But these methods all share the same objective—to remove all uncovered plaque and tartar (hardened plaque). Plaque fuels the infection, so removing it starves out the disease and helps the body to heal.
The damage gum disease can do to the teeth and the surrounding gums is reason enough to seek treatment. But treating it can also benefit your overall health. That's because the weakened gum tissues often serve as an open portal for bacteria and other toxins to enter the bloodstream. From there they can travel to other parts of the body and cause disease.
Gum disease also shares another feature with some systemic conditions: inflammation. This is the body's response to disease or trauma that isolates damaged tissues from healthy ones. But with gum disease, this inflammation can become chronic and ironically do more harm than good.
A gum infection may also increase the body's overall inflammatory response, in turn aggravating other diseases like diabetes, heart disease or arthritis. Treating gum disease lowers inflammation, which in turn could ease inflammation in other conditions. Likewise, reducing your body's overall inflammatory response by properly managing these other conditions might make you less susceptible to gum disease.
It's important then to prevent and treat gum disease as if your overall health depended on it—because it does. You can prevent it by brushing and flossing daily and undergoing regular dental cleanings to remove plaque. And see your dentist promptly at the first signs of gum problems. Likewise, follow a physician-supervised program to manage any inflammatory conditions.
If you would like more information on preventing or treating gum disease, please contact us or schedule an appointment for a consultation. You can also learn more about this topic by reading the Dear Doctor magazine article "Good Oral Health Leads to Better Health Overall."