Posts for: September, 2019
By Dental Implant and Laser Surgical Specialists
September 15, 2019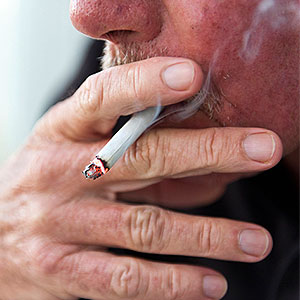 Although periodontal (gum) disease starts with the gums, the teeth may ultimately suffer. An infection can damage the gum attachment and supporting bone to the point that an affected tooth could be lost.
The main cause for gum disease is dental plaque, a bacterial biofilm that accumulates on teeth due to ineffective oral hygiene. But there can be other contributing factors that make you more susceptible to an infection. Smoking tobacco is one of the most harmful as more than half of smokers develop gum disease at some point in their life. If you're a heavy smoker, you have double the risk of gum disease than a non-smoker.
There are several reasons why smoking increases the risk of gum disease. For one, smoking reduces the body's production of antibodies. This diminishes the body's ability to fight oral infections and aid healing. As a smoker, your body can't respond adequately enough to the rapid spread of a gum infection.
Another reason for the increased risk with smoking are the chemicals in tobacco that damage the connectivity of gum tissues to teeth that keep them anchored in place. The heavier the smoking habit, the worse this particular damage is to the gums. This can accelerate the disease and make it more likely you'll lose affected teeth.
Smoking can also interfere with getting a prompt diagnosis of gum disease because the nicotine in tobacco reduces the blood supply to the gums. Usually a person with an infection may first notice their gums are reddened or swollen, and bleed easily. Smoking, however, can give a false impression of health because it prevents the infected gum tissues from becoming swollen and are less likely to bleed. As a result, you may learn you have the disease much later rather than sooner, allowing the infection to inflict more damage.
There are ways to reduce your disease risk if you smoke. The top way: Kick the smoking habit. With time, the effects of smoking on your mouth and body will diminish, and you'll be better able to fight infection.
You should also practice daily brushing and flossing to keep plaque at bay, followed by regular dental cleanings to remove hard to reach plaque and calculus (tartar) deposits. You should also see your dentist at the first sign of trouble with your gums.
If you would like more information on the prevention and treatment of gum disease, please contact us or schedule an appointment for a consultation. You can also learn more about this topic by reading the Dear Doctor magazine article "Smoking and Gum Disease."
By Dental Implant and Laser Surgical Specialists
September 05, 2019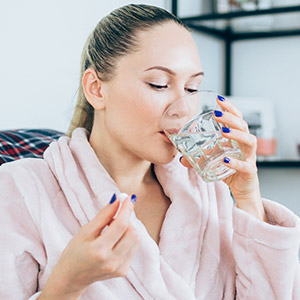 Millions of microorganisms call your mouth home—and while most are friendly, some are not. An invasive procedure like implant surgery can disrupt the mouth's soft tissues and allow disease-causing bacteria to enter the bloodstream.
This isn't necessarily a major concern if your immune system is sound—your body will move quickly to quash any developing infection. But if your body's defense is weak or compromised by other health conditions, an ensuing infection could cause you problems. In the case of a dental implant, a localized infection around it could lead to its failure.
The bone normally grows and adheres to the surface of an implant soon after it's placed, giving it the added strength and durability for which implants are best known. A bacterial infection, though, could impede bone integration and weaken the implant's hold within the jaw.
One way to avoid this is by treating patients at high risk for infection with an antibiotic before the procedure. In one recent study, researchers concluded that patients receiving a 2-gram dose of amoxicillin an hour before implant surgery helped reduce the risk of future implant failure.
But before taking this route, the dentist must first decide whether antibiotic pre-treatment might be more detrimental than beneficial to an individual patient. Antibiotics can cause side effects in certain people ranging from diarrhea to allergic reactions. Healthcare providers must also be prudent with administering antibiotics for the good of society in general—overuse can potentially give rise to antibiotic-resistant bacteria.
A number of healthcare associations highly recommend antibiotic pre-treatment for any dental patient with prosthetic heart valves, a history of infective endocarditis, a heart transplant and similar heart conditions. They also recognize patients with conditions like prosthetic joints, weakened immune systems, diabetics or other serious health problems could also benefit from antibiotic pre-treatment, but leave it to the physician's discretion on whether or not it's appropriate for an individual patient.
If you're planning to undergo implant surgery or a similar procedure and are concerned about infection, speak with your dentist about whether you would qualify and benefit from antibiotic pre-treatment. If appropriate, taking an antibiotic beforehand could minimize your infection risk.
If you would like more information on pre-surgical antibiotic treatment, please contact us or schedule an appointment for a consultation. You can also learn more about this topic by reading the Dear Doctor magazine article "Implants & Antibiotics: Lowering Risk of Implant Failure."